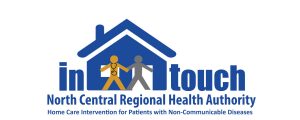 PURPOSE:
The NCRHA's In-Touch Program is a Primary Care intervention project that was created to improve the wellness of patients who have been experiencing recurring hospital admissions due to the difficulty of managing their non-communicable disease on their own. The program seeks to reduce hospital readmissions of patients with chronic non-communicable disease, encourage patients to stay healthy at home through health education and direct intervention, motivate patients to take their prescribed medications, engage the entire family unit into the care of their sick loved ones, achieve sustainable development, reduce premature mortality from non-communicable diseases through prevention and treatment and promote positive mental health support and well-being.
The initiative is staffed by community nursing personnel, doctors, district health visitors and district nurses. Patients receive personalized care in the comfort of their homes. Family members and neighbours present during the visit are also screened and advised about the lifestyle changes and habits needed to address the rising incidence of NCDs.
According to CEO, Mr. Davlin Thomas this particular initiative undertaken by the Authority will focus on our patients who have recurring hospital admissions for non-communicable diseases. "If we are able to identify and engage them early – long before their situation becomes critical, we will be able to improve their quality of life and reduce the cost of emergency care," he added.
SERVICES:
The programme, includes a full status check of the patient, with evaluations of their meals, living environment, family support structure, exercise regimes and the medicine requirements to keep them healthy in order to ensure improvements in their quality of life.
STATISTICS:
Over 150 persons have been visited to date.
CONTACT:
General Manager, Nursing Services
Third Floor, Building #39
Eric Williams Medical Sciences Complex
Uriah Butler Highway, Champs Fleurs
Phone: 225-4673 Ext 3059 / 5035
Email: exec.sec.nursing@ncrha.co.tt