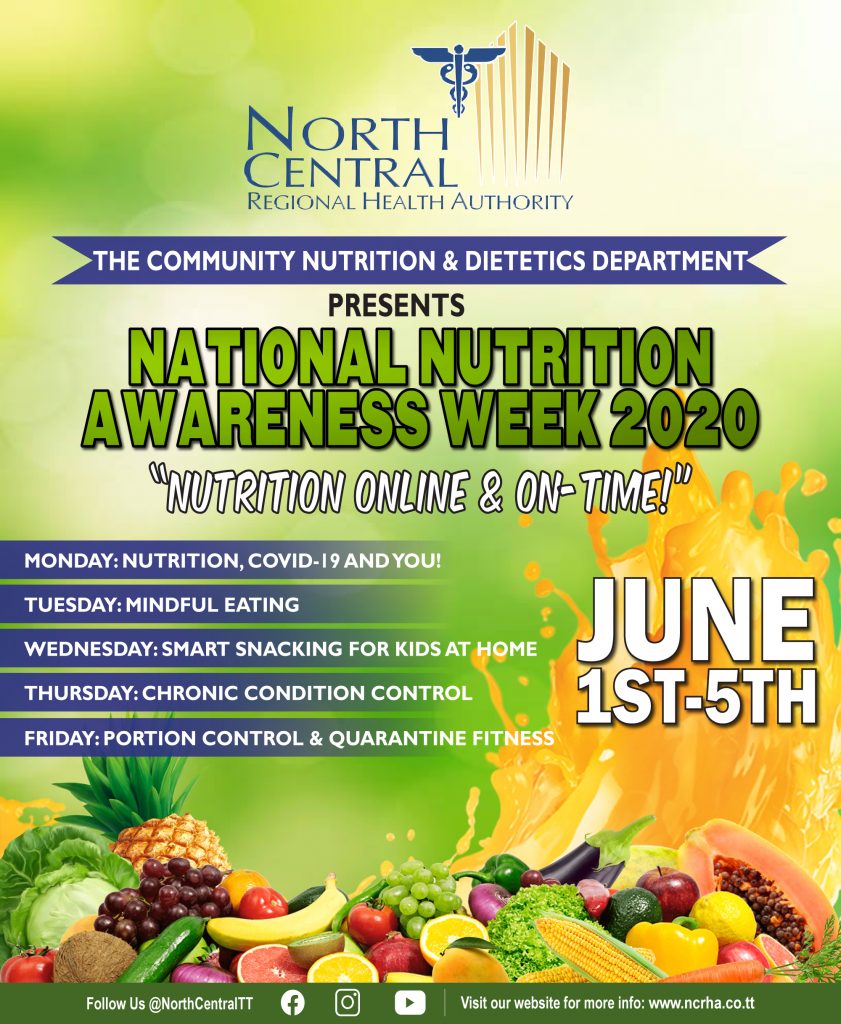 With the onslaught of the COVID-19 virus, the demand for healthy eating and lifestyle changes became more imminent in our minds. With all the variances of the virus, having a stronger immune system is one of the best defenses to fight disease and prolong life. All over the world, individuals are taking stock of their diet and making healthy changes.
Having a healthy immune system does not happen with a short term eating plan, the addition of a superfood, or and overuse of supplements. Instead, it is suggested that gradual building and maintaining the body's defenses over time is the most effective strategy. This can be done through many different channels such as a healthy diet, regular exercise, sound mental health, and good sleeping habits.
At the North Central Regional Health Authority (NCRHA), we take advantage of this time to promote healthy eating with a lifelong approach during the week of June 1st– 5th, 2020.
MONDAY, JUNE 1ST, 2020 – Nutrition, COVID 19, and You! (Immune Boost)
National Nutrition Awareness Week 2020 – Immune Boosting
National Nutrition Awareness Week 2020 – 6 Food Groups
National Nutrition Awareness Week 2020 – Nutrient-Dense Foods to Stock Up
TUESDAY, JUNE 2ND, 2020 – Mindful Eating
National Nutrition Awareness Week 2020 – Mindful Eating
National Nutrition Awareness Week 2020 – Ten Ways to Entertain Yourself Besides Eating
WEDNESDAY, JUNE 3RD, 2020 – Smart Snacking for Kids at Home
National Nutrition Awareness Week 2020 – Healthy Snacking for Kids at Home
THURSDAY, JUNE 4TH, 2020 – Chronic Condition Control
National Nutrition Awareness Week 2020 – Chronic Condition Control (CCC)
FRIDAY, JUNE 5TH, 2020 – Portion Control and Quarantine Fitness
National Nutrition Awareness Week 2020 – Your Guide to Practicing Portion Control
National Nutrition Awareness Week 2020 – Quick Workout for Home